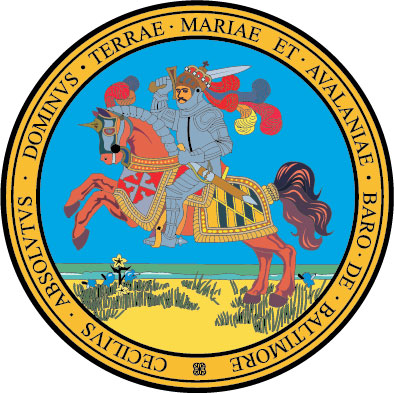 Current (top), then historical coats of arms for the State of Maryland, followed by the reverse of the Seal of Maryland, which incorporates the current coat of arms, then the obverse of the seal.
Both the obverse and the reverse of the seal are described by statute.
Maryland is the only state with an Italian motto: "Fatti maschii, parole femine," which is an archaic Italian spelling for "Fatti maschi, parole femmine,"or "Manly deeds, womanly words." This motto like the rest of the coat of arms has its origin in the coat of arms of the Calvert family.
The text on the reverse of the seal, "Scuto bonæ voluntatis tuæ coronasti nos" is from Psalm 5:13, "You surround him with favor like a shield" (NAB-RE), or "Thou hast crowned us, as with a shield of thy good will" (Douay-Rheims). The usual citation is Psalm 5:12, which is also used by the statute, from the Psalm numbering system used by the Hebrew Masoretic text as well as most modern English bibles. However, given that the quotation is from the Vulgate it makes more sense to use the numbering system that was used by the Vulgate, and I would recommend amending the statute to reflect this. The translation provided by the Maryland statute is "With favor wilt thou compass us as with a shield."
The text on the obverse of the seal, "Cecilius Absolutus Dominus Terræ Mariæ et Avaloniæ Baro de Baltimore," translates to "Cecil, Absolute Lord of Maryland and Avalon, Baron of Baltimore."